The business and technology challenges arising out of the Covid-19 pandemic are numerous. One of the biggest transformations many companies have had to make is how do they rapidly pivot to making remote work the norm for their workforce. Traditionally, there has always been a chasm between the connection an office-based worker has to company management versus the connection a deskless worker (also known as frontline worker) has to management. Indeed, the office based worker typically has technology at their disposal that makes it easy to keep in contact with the day to day operations of the company, while the deskless worker can often feel isolated because the company hasn't invested in tools that keep them effectively connected.
The Covid-19 pandemic has placed the deskless workforce front and center, since the true heroes of the crisis are the employees working on the frontline. Doctors, nurses and other healthcare workers are just some of the frontline heroes that not only care for us during this crisis, but also risk their health and safety to do so. Frontline workers have made tremendous sacrifices just to do their job. There are reports of frontline workers moving into tents and campers because they fear spreading the virus. Turn on the nightly news any night, and you will likely see stories describing the selfless acts of these brave employees.
In fact, every day in America and throughout the world, deskless workers on the frontline risk their health and safety just by going to work. But, they are not the only ones. Field service employees, customer service, retail workers, transportation and logistics workers, grocery store workers, and hotel and restaurant staff are all on the frontline fighting the war on this virus just by doing their job. As a result, it is now more important than ever to cross the chasm and arm the deskless workforce with the tools they need to feel supported, connected and empowered.
Unfortunately, many deskless workers do not feel valued by their employer today. A report published by Quinyx during the 2020 Covid-19 pandemic clearly shows the disconnect that many employees feel. Figure 1 shows the percentage of deskless workers in five industries that do not "feel loved" by their employers. In fact, these employees feel their employers view them as disposable or temporary rather than as an important part of team.
Figure 1: Percentage of Deskless Workers that don't "feel loved" by their employers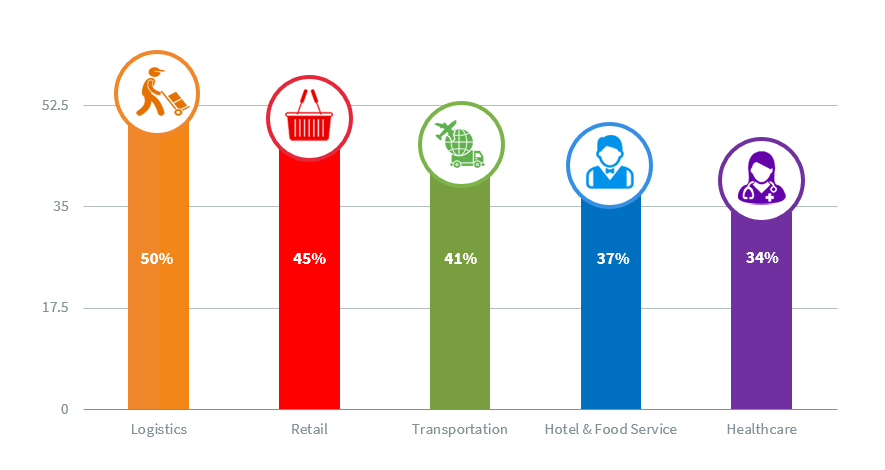 This feeling of isolation can create a negative work environment. Ultimately, if left unchecked, this can dramatically impact a company's ability to retain their employees. As shown in Figure 2, the same report shows that a majority of deskless workers in all of these industries have considered quiting their job. Losing good employees can negatively affect the bottom line for many companies. Showing your employees that you value them is a major driver for creating a competitive advantage.
Figure 2: Percentage of Deskless Workers that considered leaving their job by industry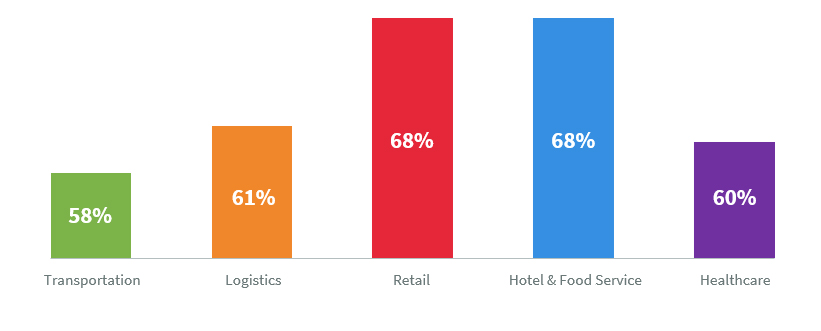 This is the exact reason the team at DesklessWorkers decided to build the RemoteForce™ platform. RemoteForce is a content management and collaboration system that allows companies with a remote workforce to rapidly publish content (in the form of articles, images, video and documents) to a powerful Mobile App that is customized with the branding of your company. According to a communications effectiveness survey from SocialChorus, two-thirds of employees found their branded company Mobile App easier and faster to use than other content sources, such as their company Intranet or Email. The same survey also indicated that employees are three times more likely to interact with a Mobile App than a Web based Application. That is why we invested in building an easy to use Mobile App at the center of the platform to allow deskless workers to consume content and communicate and collaborate with their company. The platform can be used to schedule and manage remote workers, assign them tasks and projects that they can be accountable for, and allow employees to share information and knowledge effectively from the field.
This is a trying time for many companies. There have been several highly publicized casualties already who have failed to adapt to the new reality for many businesses, and we are only a few short months into the pandemic. The companies that will emerge from the Covid-19 crisis unscathed are the ones who recognized the importance of empowering their workforce with the tools they need to work remotely while feeling safe and secure in the thought of knowing they are a critical member of a larger team.
A lot of companies are offering frontline workers free products to thank them for their contributions during the pandemic. Companies are graciously offering everything from free food, to free personal care products to free oil changes. These are all great ways to thank frontline workers, but what these workers really need is to know that their employers care about them and that they are an important part of the company. Feeling disconnected and disenfranchised is no longer an option post Covid-19. Companies that can provide the right toolset to their employees that keep them connected, informed, and empowered will have a significant competitive advantage over those that do not. Empowering your workforce with the right tools can make a big difference in productivity and performance. The toolset remote workers need in a Mobile App, now more than ever, are the following:
Content Creation and Feedback – Getting content out to your remote team quickly is critical. During this crisis, it is increasingly important to get information out to your workforce in a timely manner. Things are changing at the speed of light, and being able to keep workers informed of changes and publish important information helps keep everyone on the same page. Our customers are using this tool as an opportunity to listen to their employees by providing an information and feedback loop and allows leaders to focus on the wellbeing of their team. When users can easily access Team and Company Announcements, see Training Videos, and read helpful Learning Resources they feel more connected as a team and an important part of the company. Plus, management now has the ability to see who is reading content and how they are interacting with content you post.
Real-time Alerts and Communication of Information – One of the biggest advantages of having a mobile device is the ability to send a critical piece of information down to the device in real-time, so the user can act on it immediately. The RemoteForce app provides advanced, real-time, location specific alerts that are designed to keep users informed and safe. Need to communicate an important piece of information to an employee before they are at a customer location, now you can have the confidence in knowing they have read the alert before they arrive. Alerts are already being used by our customers to keep workers informed of the evolving guidance on the Covid-19 pandemic.
Document and Video Repository – In today's connected world, business can happen anywhere whether on the road, at home or back in the office. This is even more the case now that many companies are being forced to work from home thanks to the Covid-19 pandemic. The RemoteForce app allows you to digitize and secure your critical documents and make them accessible to anyone at the company, at any time and on any device. The document and video file repository is a great place to store important company documents like Payroll and HR policies, Covid-19 related information, and knowledge and training documents.
Communication and Collaboration – The ability to search through a directory and easily chat with anyone at your company instantaneously is critical to keeping employees feeling connected. Business chat gives your remote employees access to anyone at the company that they may need when working onsite. Whether it be getting answers to critical questions, solving a discrepancy with a customer, or just needing to talk to a manager, having someone available to talk with in real-time, empowers employees by giving them the confidence to know they are not alone.
Task Management – Businesses need to keep their frontline workers on task and accountable for work items being accomplished. Many companies struggle to keep remote workers accountable, and sometimes it can be a challenge to know if an employee did something you needed them to do today. A good task management system allows you to create lists of tasks for employees to perform, and using a dashboard allows you to see in real-time which employees are complying and which are not.
Polls and Surveys – One of the best ways for employees to feel important and valued is to solicit their feedback on important issues and decisions that affect the company. Polls allow you to provide options for employees to choose from. Surveys allow you to ask detailed questions and solicit input and feedback that can be sent in a user's own words or confidentially. Surveys can also be used to test an employee's knowledge of a particular subject.
Companies that excel in challenging times rapidly adapt to new circumstances and challenges better than their competitors. Creating a culture of excellent service and support can go a long way to making better and more loyal connections with your customers, but loyalty does not just apply to customers. Employees that truly feel connected to a company and a well-defined mission are often more dedicated, passionate, and loyal. Giving your employees better tools to do their job effectively means you are devoted to and invested in their success. Helping to improve training standards, keeping employees informed, providing frequent and valuable feedback, empowering them to find the answers and documents they need, and knowing how employees are performing in real-time are all powerful tools that can provide your business a competitive advantage.
"The Covid-19 pandemic has made working remotely the norm, but the companies that will emerge successful from this challenging time are those that will leverage technology to create a positive impact on the deskless workforce."

David Young - CEO, Deskless Workers
Technology that excels in the points above enables companies to create a more personal and direct connection to their workforce even though they are deskless and working remotely. For the many challenges COVID-19 has presented, it has also given many companies an opportunity to re-examine how they can connect to their deskless workforce. Companies that heed the call to transform and empower their workforce with the right tools and mindset will gain an advantage over their competition.